INVENTORY - The Air War in Western Europe (1939-1945) Unraveled
Basic Documentation on Thousands of Air Missions Now Available

Information on missions carried out by bomber aircraft and fighter bombers of all the belligerents of the Second World War in Western Europe is now available. It can be found in the mass of documents collected on the subject and entrusted to CegeSoma by Georges Van Merode.


Painstaking Data Collecting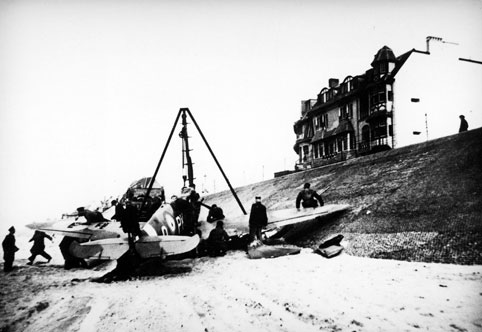 RAF Spitfire forced to make an emergency landing after an air-to-air combat, Westende, 29 August 1941. (Photo CegeSoma, N° 12.999)
George Van Merode (1935-2016) was a veteran of the Foreign Legion and standard-bearer, and has collected for many years an impressive documentation on this subject. For each of the identified missions, Van Merode has attempted to compile a data sheet in English with about a dozen points related to the type of airplane, its serial number, its base, place and date of mission, the cause of a possible crash, the composition of the crew and the source which was used, and finally also a photograph of the airplane. The data have mostly been collected on the internet, but sometimes also through press cuttings or via archive centres. In certain cases, they provide precise information on the circumstances of the crash or the fate of the crew members.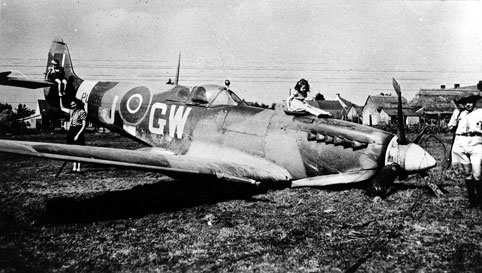 RAF Spitfire shot down in Avelgem in 1944. The presence in the picture of a woman, two children and a resistance fighter proves that the photo has been taken after the liberation of the territory. (Photo CegeSoma, coll. Parmentier, N° 13.000)

A Reclassification Distinguishing Belgium from the Rest of Europe
The data sheets provided by Van Merode were listed by air force and, within these air forces, by alphabetical order according to the different types of airplanes. Our volunteer Pierre Brolet has separated each of these large collections in two parts, depending on whether or not the missions or crashes were related to Belgium. Thus, are related to Belgium the first 6 maps (out of 91) related to the RAF, the first 7 maps (out of 94) related to USAAF, the first 10 maps (out of 15) related to the Luftwaffe, as well as map 201 related to other air forces. For more details, see the inventory here. 

 

Finally, we mention that Georges Van Merode has also donated a small archive fund on the Foreign Legion and on his personal research on the Second World War (AA 2482).

 

 

17 / 1 / 2017