At your newsagent: the war papers of 1914-18
 Nearly a hundred years ago, Belgium was attacked by Germany. Since the end of December 2013, you can read about these events that shook the whole world in the newspapers of the time. The series De Oorlogskranten 1914-1918 republishes the Belgian newspapers of the First World War in their entirity, as they were published at the time.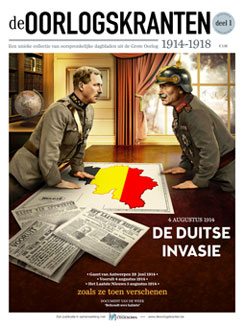 Each issue of the series contains a selection of newspapers with articles on the principal events of the Great War. You will find copies of the censored press and the clandestine press, newspapers published by Belgians in exile as well as trench newspapers. Together, they offer a unique overview of this conflict which marked the beginning of the 20th century.
In each edition, you will also find articles by contemporary experts who propose a reframing of the events, thus contributing to a better understanding of the weight and legacy of the conflict.
De Oorlogskranten 1914-1918 is an independant publication. CEGESOMA provides the scholarly and editiorial expertise for this project.
For more information, go to www.deoorlogskranten.be or info@deoorlogskranten.be.
23 / 12 / 2013

To consult the list of our publications, click here.