Albert & Elisabeth
Chantal Kesteloot (ed.)
Albert & Elisabeth. Filming the Life of a Royal Couple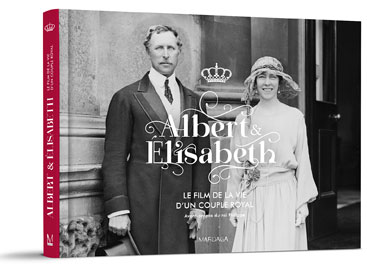 This publication presents a different and original view on the reign of King Albert and Queen Elisabeth. It is structured around the image of their reign as conveyed through film and image and complements the exhibition Albert and Elisabeth. Filming the Life of a Royal Couple, produced by CEGESOMA in partnership with CINEMATEK.
In his foreword, King Philip of Belgium emphasizes an aspect which emerges throughout the exhibition and the catalogue, namely that Albert I was the first Belgian King who, from the start, did not appear alone, but always with the Queen at his side.
From the end of the 19th century, at the very earliest stages of cinema, the young Prince Albert  proved to be a knowledgeable film enthusiast. Soon, the future king and his wife cultivated a glamorous public image, mixing a level of ease and awkwardness, but always wishing to be close to the people. They were a filmmaker's dream come true.
There are a great number of images of the royal couple, in Belgium as well as abroad. They cover the period from Albert's ascension to the throne to his tragic death in February 1934. The King and Queen travelled all over the world, from Brasil to Versailles. They also received many heads of state after the war.
Through the image, and also thanks to the scholarly contribution of the best experts in the field, this publication offers a synthetic overview of the monarchy in the private and public spheres. It explores different  angles of the life of the Sovereign and of the royal couple: his  ceremonial functions, but also as head of the armed forces, promoter of science and cinema enthusiast.
This publication offers a fresh look at the Belgian monarchy and at one of its most emblematic couples. It is amply illustrated with film extracts and photographs from the period.
The catalogue can be ordered at CEGESOMA (Lut Van Daele or 00 32 2 556 92 07) at the exceptional price of 20 EUR (plus postage) instead of  24,50 EUR (bookseller's price).
Albert & Elisabeth. Le film de la vie d'un couple royal. Avant-propos du roi Philippe [Chantal Kesteloot (ed.)], Bruxelles, Mardaga, 24,5 x 18,5 cm, hardcover, 156 p.
To consult the list of our publications, click here.