Histoire des Juifs à Bruxelles
Lieven Saerens
Rachel, Jacob, Paul et les autres. Une histoire des Juifs à Bruxelles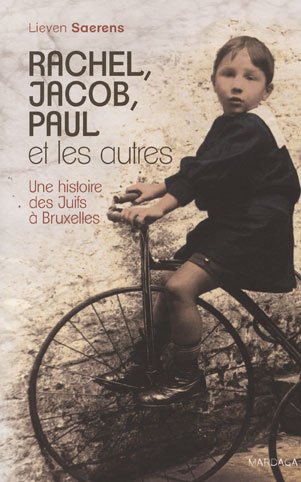 From the 1920s onward, thousands of Jews in search of a better life, established themselves in Brussels. The book follows their trajectory before, during, and after the Second World War. Thus, a penetrating but also subtle picture is created of a tragic period in the history of our capital.
Lieven Saerens is an expert on the subject of the persecution of the Jews during the Second World War. In the book, which is well researched and accessible to a wide public, he describes the Jewish migration in Brussels in times of crisis and war. A remarkable book on the past, which carries a message for today!
The book is published by Mardaga and will be available in the bookshops from September. A Dutch-language edition, published by Het Davidsfonds (Onwillig België. Een verhaal over Jodenvervolging en verzet), will also arrive at the bookshops by September.
The book can be ordered at the CEGESOMA (Lut Van Daele or 00 32 2 556 92 07) at the price of 19,50 EUR, postage not included, instead of 22 EUR (bookseller's price).

Rachel, Jacob, Paul et les autres. Une histoire des Juifs à Bruxelles [Lieven Saerens] , Brussels, Mardaga/Cegesoma, 2014, 23x15 cm, 272 p.

To consult the list of our publications, click here.