Qui a tué Julien Lahaut ?
Emmanuel Gerard (éd.), Widukind De Ridder & Françoise MullerQui a tué Julien Lahaut ? Les ombres de la guerre froide en Belgique
A political assassination
On 11 August 1950, the communists present at King Baudouin's oath shouted "Long live the Republic!". One week later, Julien Lahaut, charismatic leader of the communist party, was assassinated at his own doorstep. This political murder, of paramount importance in the history of Belgium, had never been clarified.

The trajectory of an anticommunist network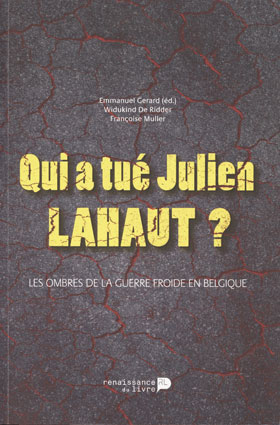 Qui a tué Julien Lahaut? reviews the judicial inquiry carried out at the time of the facts, and explores new approaches to the case. The authors dug through the archives and found a "forgotten" document that led to André Moyen. The latter was an agent whose mission was to create an anti-communist network in Belgium after WWII.

Why was the assassination never Clarified ?
The book follows the tracks of Moyen, shedding light on the intellectual authors and members of this network. Its ramifications go as far as extremist groups and outstanding figures of the financial milieu. By replacing the facts in the context of the Cold War, the authors reveal how and why the inquiry got stuck in the midst of errors and omissions, which explains why the murder was not clarified.

The authors
Emmanuel Gerard is professor in history at the KU Leuven. He specializes in the study of 20th century political life in Belgium and has been a member of the parliamentary committee of inquiry into the assassination of Patrice Lumumba. The book was co-written with two experienced historians : Françoise Muller, author of a doctoral thesis on the history of the Court of Cassation, and Widukind De Ridder, doctor in history specializing in the study of labour organization and professional relations in modern times.

To order the book
The book can be ordered at CEGESOMA (Lut Van Daele or 00 32 2 556 92 07) at the price of 19,95 EUR, postage not included, instead of 24,90 EUR (bookseller's price).

The Book
Qui a tué Julien Lahaut ? Les ombres de la guerre froide en Belgique [Emmanuel Gerard (ed.), Widukind De Ridder & Françoise Muller], Waterloo, Renaissance du livre/CegeSoma, 2015, 16 x 24 cm, 350 p.

Press map with downloadable images and extracts of the book
 - Document Press Release
- Document Résolution Sénat
- Photos
To consult the list of our publications, click here.