Cities at war, 1914-1918. Brussels
Chantal Kesteloot & Bruno Benvindo 
Bruxelles ville occupée, 1914-1918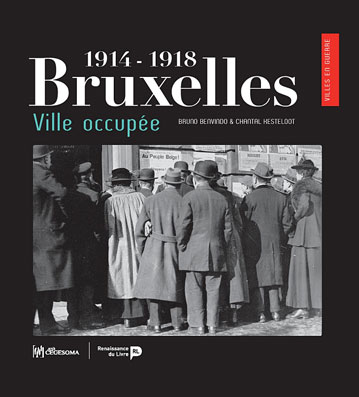 The authors of Bruxelles ville occupée relate the experiences of the inhabitants of Brussels during the First World War through the medium of the image. They examine how the major challenges of this turbulent period are reflected by means of photographs, postcards and the illustrated press
A New Perceptive on the First World War
Brussels, August 1914. The city was at war. Panic, patriotic fervour, influx of refugees: this was the reality of the capital that had nevertheless been spared of the fighting. The occupier soon settled in the city and paraded the streets. For the next four years, Brussels was to be the largest occupied city in Europe.

Via original photographs, postcards of the occupation period and the illustrated press, Bruno Benvindo and Chantal Kesteloot trace a visual history of the city faced with starvation and unemployment, but where daily life soon took its usual course.

The German army tried to build a "home away from home" in the Belgian capital with theaters, cinemas and pubs. In the meantime, a battle was waged in the occupied city between patriots and activists to win over public opinion, homeowners who no longer received rent, and labourers deported to Germany. How was all this visualized ?

In November 1918, the city was liberated. Now was the time for commemoration, but at the same time the people had to face housing problems, difficult reunions or painful mourning. Peace had arrived, but the war was not yet over.
The book can be ordered at CegeSoma via email (cegesoma@cegesoma.be) or telephone (00 32 2 556 92 11) at the price of 20 € (shipping not included) instead of 22,90 € (bookseller's price).

Bruxelles ville occupée, 1914-1918 [Chantal Kesteloot & Bruno Benvindo], La Renaissance du Livre, 2016, 176 p.
To consult the list of our publications, click here.
1 / 12 / 2016