War Children
Gerlinda Swillen  
De wieg van de Tweede Wereldoorlog. Oorlogskinderen op de as Brussel-Berlijn 

[The Cradle of the Second World War – War Children on the Brussels-Berlin Axis]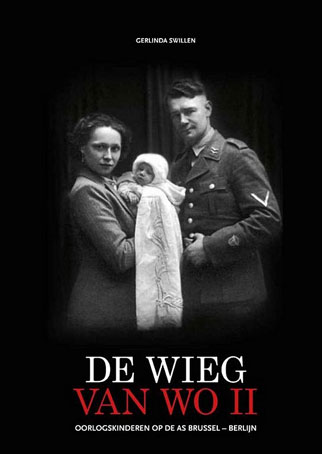 During the Second World War, children were born of Belgian women and German soldiers in occupied Belgium, the annexed Eastern part of Belgium and also in Germany. They were war children in the strict sense: without the war, their parents would (in all probability) never have met.
Who were those parents ? How did they meet ? What was the nature of their relationship and how could it be developed (or not) in a particularly complex social and ideological context? This book pays special attention to the juridical status and the social consequences of these relationships that eventually led to the birth of war children.
From the moment they were born, Belgian-German war children often found themselves in a very precarious situation. They could not benefit from any juridical or social protection. This situation has not changed for war children who are born in conflict zones today.
The author :
Gerlinda Swillen, Doctor of History VUB, 2016; licentiate Germanic philology & Academic teacher training certificate, ULB-VUB (Brussels), 1964; honorary teacher Flemish Community Education; voluntary academic collaborator VUB-history department; associated researcher CegeSoma; honorary president Masereelfonds and still a member of the editorial board of Aktief; first spokesperson of the international network of associations of war children, BOW i.n. (Born Of War international network) from 2009 to 2013. She published many articles on feminism and socialism and cooperated in radio and television programmes. She has carried out research on war children stricto sensu in Belgium since 2008.
The books can be ordered at CegeSoma via email (cegesoma@cegesoma.be) or telephone (00 32 2 556 92 11) at the price of 32 € (postage not included).
De wieg van de Tweede Wereldoorlog - Oorlogskinderen op de as Brussel-Berlijn [Gerlinda Swillen], Bruxelles, VUBPress, 2016, 594 p., 94 photos.

To consult the list of our publications, click here.
11 / 1 / 2017