LECTURE - Judiciary, resistance and violence in Brussels 1940-1944
During the Second World War, the Belgian judiciary found itself in a difficult position: on one side, the occupying forces vehemently fought the resistance, whereas on the other side resistance groups violently attacked Germans and collaborators.
The magistrates working for the public prosecutor's office were faced with a dilemma: were they to hand over resistance fighters to the occupant, or should they suspend the prosecution of the perpetrators of violent attacks against collaborators - and thus leave the crimes unpunished?
Which decision did the magistrates take? Did their attitude change over time and if so, why? And how did the occupying forces react?
These questions will be discussed during the lecture on Friday the 24th of March 2017.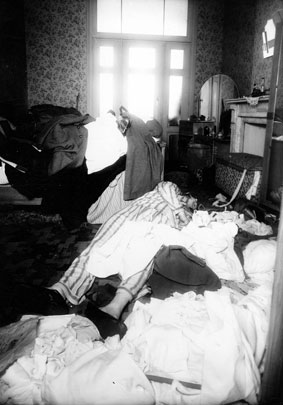 Murder of A.J. Wekselman in his home. Brussels, 29 July 1943. (Collection CegeSoma)
Our colleague
Jan Julia Zurné
(CegeSoma/State Archives), who has just defended a PhD thesis on this subject, will take the floor. She will talk about the attitude of the judiciary and police officers and discuss how they reacted when the occupying forces demanded their collaboration in the repression of the resistance. In addition to this, she will consider the consequences for both the magistrates themselves and the resistance. Nico Wouters (CegeSoma/State Archives), specialist on the Second World War and local administration, will introduce the lecture and moderate the discussion.
Would you like to learn more about the conclusions of this thesis? Click here.

Pactical details:
The lecture will be held in Dutch.
-  Location: conference room of the CEGESOMA, square de l'Aviation 29 at 1070 in Brussels.
-  Friday the 24th of March, 2.30 p.m.
-  Please register: Isabelle Delvaux - 02/556 92 57.

8 / 3 / 2017