IVth Conference of the International Federation for Public History
From
5 to 9 June 2017
, the fourth conference of the
International Federation for Public History
(FIHP/IFPH) will be held in Ravenna. In just five days, some fifty international panels will discuss key questions with regard to public history.
At the same time, the Italian Association for Public History will also organize its first conference. The Polish historian and Director of the Museum of the Second World War in Gdansk, Paweł Machcewicz, will be the honorary guest during this event. His presence will present the opportunity to reconsider the historical and memorial debates that shake Poland today.
The Ultimate Even of Public History
The Conference of Ravenna will be of key interest to everyone taking an interest in public history. The presence of some two hundred international speakers, and an equal number of Italian historians, will doubtless lead to interesting discussions. Among the themes are the question of the relation between museums and public history, the challenge of contemporary events in the context of public history, the digital (public) history and the issue of difficult pasts and memories that are put into question. Furthermore will be treated the question of the use of diverse and varied sources and the question of training and working methods specific to public history.
The programme and the information concerning registration can be found via the website: https://events.unibo.it/ifph2017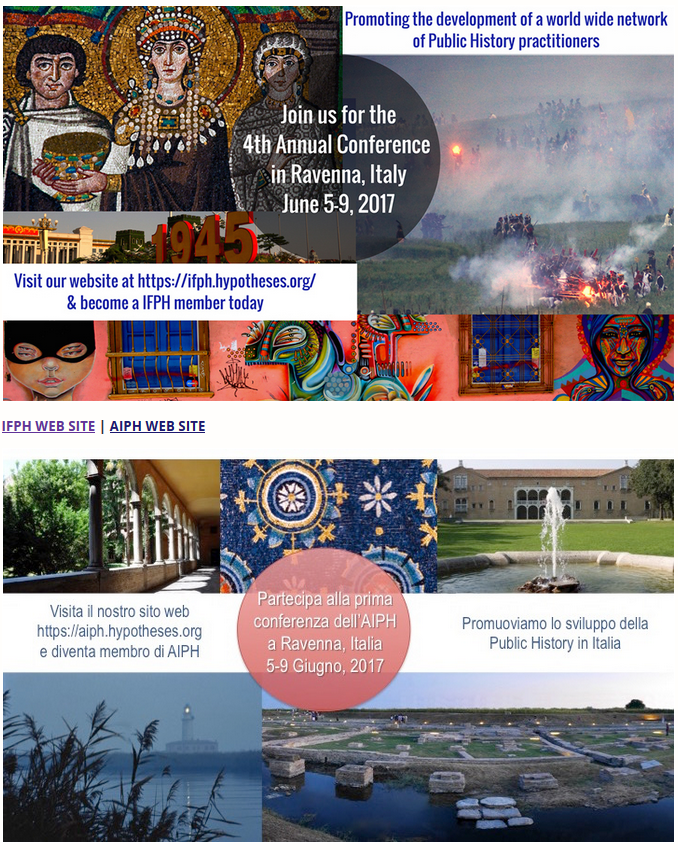 A Young Federation of International DimensionThis dynamism is the achievement of a young federation and illustrates the recent development of public history. Originally, the federation was created under the auspices of the National Council on Public History, a leading American organization. It was launched as early as 2012 during a symposium dedicated to the "Digital Humanities", organized by the Luxembourg Virtual Centre for Knowledge about Europe (CVCE). The interest for public history was born on the North American continent and has gradually conquered the rest of the world. The policy of the IFPH must be seen in this international perspective, in that it firmly refuses a narrow Eurocentric approach. Indeed, in 2016, the yearly conference was held at the Universidad los Andes de Bogota. The IFPH has individual and institutional members. In several countries, national structures have recently been set up. The Italian federation is the most recent and also the most dynamic so far.

CegeSoma, a Key Player in the Public History
From the start, CegeSoma has taken as its mission the promotion of an historical approach with and for a large public. The institution has always been alert to social demand. In 2012, this concern resulted in the creation of a "Public History" sector. This commitment has now been embodied in a Royal Decree that integrates CegeSoma in the State Archives. In this decree, the implementation of public history projects is clearly outlined. Therefore, we feel it is essential to extend this commitment by actively participating in the activities of the International Federation.

Chantal Kesteloot IFPH Corresponding Secretary

19/04/2017