Conference on Jews and Resistance
To commemorate the 70th anniversary of the attack on the 20th convoy, Cegesoma and Kazerne Dossin will organize a conference on the topic of 'Jews and Resistance'.
This conference is aimed at a broad audience and will take place in Kazerne Dossin (Malines/Mechelen) on 20 November 2013.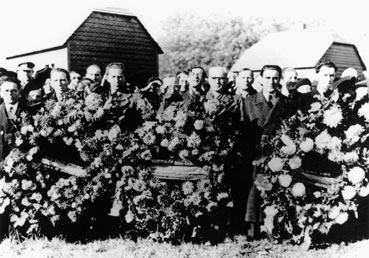 29 October 1944 : paying homage to Jewish heroes. A ceremony organized by the Comité de Défense des Juifs (CDJ) at the Tir National (the national shooting range). At the first row one can see the members of the resistance. (Cegesoma collection)
On 19 April 1943, an event occurred that holds a unique place in the occupation history of Western Europe. On this day, a train left Malines taking 1631 Jews to a certain death. While taking the curve near Boortmeerbeek, the convoy was attacked by three young men who were armed with only one revolver, and who had left Place Maiser in Schaerbeek by bicycle. 17 people managed to escape from the only wagon they were able to open. Using the ensuing confusion, 219 people could escape before the train left Belgian territory; 25 of them were killed and 91 were apprehended. A total of 120 deportees regained their freedom.
This historic event will provide the framework for this conference which will span a broader range of topics. How did Jewish people join the resistance ? How were they perceived by other resistance movements ? Attention will be paid to the role and place of the Jews in the resistance, but also to individual strategies, including those implemented in the context of incarceration in Kazerne Dossin. The conference will also be the occasion to focus on specific cases (such as Liège) and to highlight current ongoing research. There will also be room for the topics of the post-war and memory.
Each speaker will dispose of 15 minutes for his/her individual presentation, leaving ample time for discussion. The final detailed programme including information on registration will be made available after the summer via the websites of Cegesoma and Kazerne Dossin.

Chantal Kesteloot
19 / 6 / 2013