Archives Frédéric Eickhoff deposited in Cegesoma
Some years ago, Jacques Eickhoff, the son of lawyer Frédéric Eickhoff, drew our attention to his father's archives. After a long process of negotiation and with the family's approval, these archives have now been deposited in Cegesoma. The Eickhoff archives are a valuable asset for the study of the German repression, military legal administration and the resistance.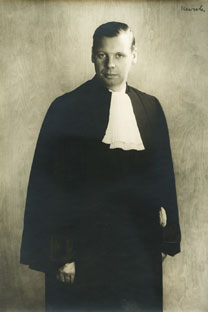 Frédéric Eickhoff during the occupation. (Collection Jacques Eickhoff)
Frédéric (or Freddy) Eickhoff defended some 2.500 resistance fighters who appeared before the German military courts in occupied Belgium accused of espionage, possession of arms, helping the Allied forces, listening to the BBC, etc. Although he was not high in the estimation of some German departments, he was able more than once to obtain a reduction of his sentence.
Master Eickhoff and his colleagues Delhaize and Van Hecke kept all the legal documents relating to their cases. This vast documentation is now, seventy years after the occupation, accessible for scientific research.
The agreement with the Eickhoff family stipulates that on consultation of the documents, professional confidentiality must be respected, and therefore no names may be made public. The archives are moreover in poor condition and some preservation measures need to be taken. After that they will be accessible to the public.
17 / 9 / 2013