Conference "Doing Justice in Wartime"
In the framework of the PAI "Justice and Populations", CegeSoma organises an international conference on 3 and 4 December 2015. The conference is titled "Doing Justice in Wartime. Multiple Interplays Between Justice & Populations During the Two World Wars".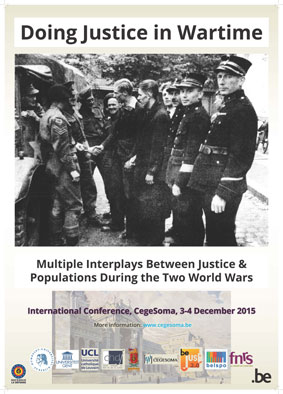 World Wars as key periods for the History of Justice
Periods of wars and foreign domination are of crucial importance in the history of justice. They have led to important shifts in the expectations, practices and actors involved in the field of justice. As a result of the often sudden changes provoked by war, existing routines in the broad field of justice came under serious pressure. The disruption of predictable patterns stimulated inventiveness. The way in which the actors of the justice sector dealt with those sweeping changes is an important research question.
 
A Grassroots Perspective  
 
Although different aspects of the impact of armed conflict on justice have been studied, the dominant approach of most of this work is top-down and highly institutional. As a result of this bias, the actual actors involved in the justice sector and their practices and expectations in war settings have been largely neglected so far. Drawing from current trends in criminology and the social history of justice, this international conference adopts a grassroots perspective. It focuses on the impact of war on the complex interactions between the different actors  (individuals and social groups on the one hand, 'the justice system' (police, judiciary and penitentiary professionals) on the other hand). The conference aims to highlight the emergence of new expectations of justice resulting from the war. It also tackles justice practices, strategies to cope with the changing circumstances, new forms of negotiation, interaction and relationships between populations and the formal justice system in this particular context, and the impact of this renegotiation in the long run. In order to reconstruct the complex landscape of the actors of the justice system in war time, and their expectations and practices, a grass-roots approach imposes itself. 
 
Practice Archives as Research Basis 
 
For this approach to be feasible, it is essential to prioritize archives resulting from actual justice activities. Judicial archives form not only the main track, but also constitute an ideal observatory for the interactions between the different actors involved. Archives stemming from police operations, the prison system and administrative surveillance are equally suitable. The privileging of this kind of 'operational sources' of the criminal justice system in its broadest sense enables us to go beyond a top-down approach predominately based on policy sources. 
 
The Field of Investigation: Belgium 
 
With two wars and two occupation experiences, but also as a colonial power during the two World Wars, Belgium is the field of investigation of the IAP 7/22  ("Justice & Populations : the Belgian Experience in International Perspective") in which this conference takes place.
Practical Details:

- Thursday 3 and Friday 4 December 2015
- You can find the programme here
- Attendance is free, please subscribe by email: leah.kazar@cegesoma.be
5 / 11 / 2015