De Ontmoeting: WWI Heritage and Research
 The "Ontmoeting" was scheduled to take place for the first time on 9 December 2015. The idea is to organise an interactive seminar which gathers history researchers with people from the Flemish cultural heritage sector. The central topic will be WWI. This seminar has been postposed until the first half of 2016. The exact date will be announced soon.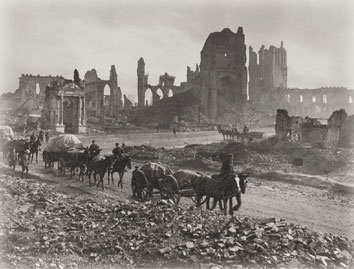 The first commemoration wave of the WWI centenary has now subsided. Many in the heritage sector are now asking themselves the same questions: what is there to be done in the two coming years regarding WWI? Which are the topics which have still to be tackled? What will happen after 2018?
These questions are at the core of the seminar we are organising in Brussels on 9 December. The idea is to bring together people from the heritage sector and  researchers, as the rift between academic research and the heritage sector is a recurrent issue in the field.
On 9 December we will give an overview of the latest Belgian research regarding WWI, and of the European funding possibilities. There will be thematic workshops on common issues, on which both people active in the heritage sector as researchers can collaborate and exchange.
The programme will close with a discussion between Piet Chielens (In Flanders Fields Museum) and Antoon Vrints (professor at Ghent University). The seminar is organized with the support of the Vlaamse projectsecretariaat 100 Jaar Groote Oorlog and Faro, the Vlaams Steunpunt voor Cultureel erfgoed.
Find the programme here.

5 / 11 / 2015