Cegesoma participates in the heritage project 'North Limburg and the Second World War'
Central in the heritage project 'North Limburg and the Second World War' are the wartime experiences of the population of Limburg. The focus is on the manner in which rural, relatively closed communities were confronted with a foreign presence as a result of the war, and how this was and is remembered.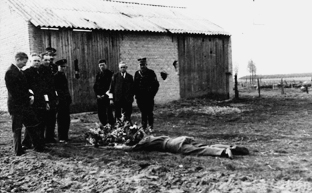 The body of SAS-sergeant Jean Melsens, retrieved by members of the White Brigade of Peer just after he was killed on 10 September 1944 in Meeuwen by retreating German troops' (photo Cegesoma)
The traces of the impact of global (f)actors on the local population are designated by the term 'globalisation heritage'. In this project, immaterial heritage (interview with witnesses) will be linked to movable and immovable heritage and to scientific research. This will result in an informative website accessible to a wide audience. In this website, the tensions between memory of the war and history of the war will be revealed. As a result, an original and accessible website will reproduce the results of the interviews, and also the results of the scientific research based on other sources.
The project is carried by a project organisation of all the villages of North Limburg (Bocholt, Bree, Hamont-Achel, Hechtel-Eksel, Leopoldsburg, Lommel, Meeuwen-Gruitrode, Neerpelt, Overpelt, Peer) and is supported by the Limburg Provincial Centre for Cultural Heritage.
Cegesoma will coordinate this project and will carry out a preliminary research project on the broader issue 'North Limburg during the Second World War'. This preliminary research project consists of a literary study and an evaluation of the existing research. In addition, a coherent research project will be set up. To emphasize the specificity of the case North Limburg, it must be placed in a Flemish/Belgian/European context. Thirdly, Cegesoma will produce the information to outline the global context of the website. There will be room for a valorisation and an interactive platform for local initiatives. In this way, local expertise and interest will have a place in this project.
From 1 January 2011, Karel Strobbe will work at the Cegesoma to give shape to the preliminary phase of this important heritage project. This phase, in which the historical foundation of the project will be established, will start on 1 January 2011 and end on 31 December 2011. After this date, the Cegesoma will continue its engagement towards this heritage project.
Nel de Mûelenaere
10 / 12 / 2010