BRAIN – Two Research Projects on the First World War
The Social Impact  of the War on Members of the Resistance and Collaborators & Memorial Traces of 14-18 Liège and Antwerp
Within the framework of the BRAIN programme (/Belgian Research Action through Interdisciplinary Networks/, Federal Science Policy), Karla Vanraepenbusch and Florent Verfaillie started in March 2014 their PhD research on the First World War. Through these research projects, CegeSoma holds an essential place in the field of new fundamental WWI-research in Belgium.
The project of Florent Verfaillie (CegeSoma/UGent) is part of the research network « The Great War from Below » (coordinated by Nico Wouters, with partners including the KU Leuven, UGent and UNamur. This research project aims to analyse the impact of the First World War on specific social groups. The research network includes three PhD researchers and one postdoctoral researcher.

Florent Verfaillie's research focuses on the members of the resistance and on collaborators of the First Word War. He will give particular attention to the prison experiences of these groups, as well as on the diversity of their post-war trajectories. He highlights the diversity in behaviour of Belgian citizens during the occupation and tries to define certain reasons for individual choices. Other than  behaviour during the occupation period, this research project also analyses the impact of  prison experiences on the representation of patriotic and social identities, as well as on  different life trajectories.

Research directors: Nico Wouters (CegeSoma) and Bruno De Wever (UGent)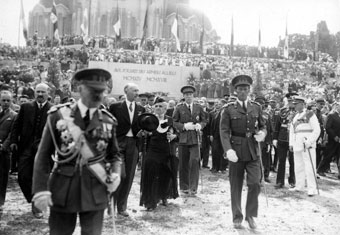 Inauguration of the Inter-Allied Memorial in Liège, in the presence of King Leopold III, 20 July 1937. (Photo Cegesoma, n° 37597)
The research project undertaken by Karla Vanraepenbusch (CegeSoma/UCL) is part of the research network Memex - Recognition and Resentment: experiences and memories of the Great War in Belgium (coordinated by Laurence Van Ypersele). Partners include the UCL, ULB, UGent, KU Leuven and CegeSoma. The project aims to connect the experiences of traumatic war events on the one hand with collective and/or individual representations after the war. The network includes four PhD researchers and one postdoctoral researcher.

In her thesis, Karla Vanraepenbusch lists and analyses all the memorial traces (monuments, commemorative plaques and street names) of the Great War in the urban landscape of Antwerp and Liège. At first sight, Antwerp, the first port town in Flanders, and Liège, the first industrial town in Wallonia, seem two very different cities. Yet, both have been besieged, invaded and occupied by the Germans. They share a relatively comparable war experience – the occupation – which is very different from that of the 'martyr cities' or the front. The researcher intends to answer the following questions: does this comparable war experience lead to a comparable collective memory? And if not, what are the specificities of the urban memory of 1914-1918 for each of these cities?

Research directors: Laurence van Ypersele (UCL) and Chantal Kesteloot (CegeSoma)

Website : http://www.memex-ww1.be/ 
Twitter: @memexww1