Tamar Cachet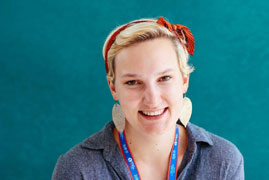 Tamar Cachet (°1992) studied history at Ghent University. In her master thesis she analyzed the use of photographs of the war dead in illustrated press during WWI. This thesis was linked to her internship at the Photography Museum of Antwerp where she assisted in creating content for the exposition 'Shooting Range: Photography in the firing line ?' on photography during WWI.
Tamar also graduated with a Master of Arts in Public History from the University of Western Ontario in Canada. There, she focused on the 'translation' of history into historical fiction and documentary film.
Since October 2016 she is working on the Brain project Belvirmus.


02/556.92.17 – Tamar Cachet 
Books
Henneman, Inge, Maureen Magerman, Lyne Viskens, Tamar Cachet, Bruno De Wever, Gita Deneckere & Johan Pas, Shooting Range: Fotografie In De Vuurlinie ?, Antwerpen, FoMu, 2014.
Articles
"Motieven om oorlogsdoden te tonen in de pers. De dood fotografisch verbeeld in de geillustreerde pers tijdens de Eerste Wereldoorlog", in Tijdschrift voor Mediageschiedenis, vol 19, n° 1, 2016, p. 35-59.