The CegeSoma photo library is back in the Square de l'Aviation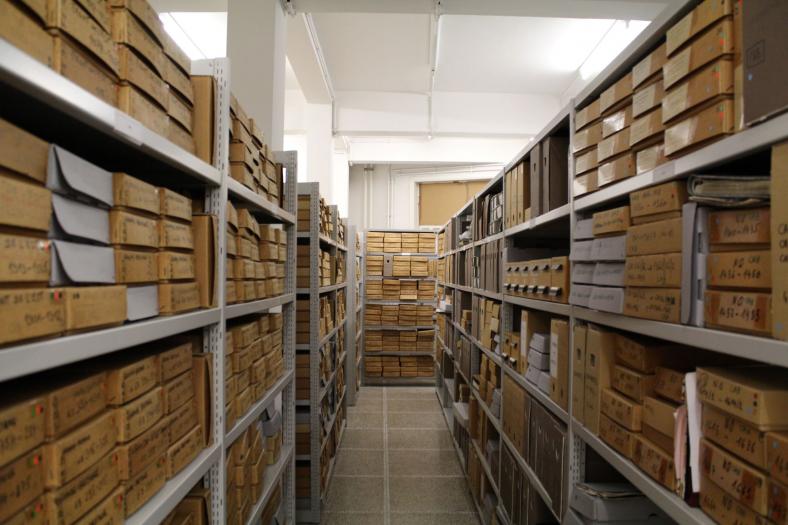 If, for most of our readers, the photo library is first and foremost an instrument that they consult online, Cegesoma does have a material collection of over 300,000 photos. For reasons of space, this collection was until recently located in our repository at the Rue de Belgrade in Forest. It took several round trips by the truck of the State Archives and the help of many colleagues for our entire photo library, kept in this repository, to be brought back to our premises at the Square de l'Aviation.
What does the CegeSoma photo library represent?
The photo library of CegeSoma counts about 310.000 photographs mainly concerning the Second World War. These photos come from press agencies, private donations, etc.
Among these 310,000 pictures, 230,000 come from the archives of the photo agency Sipho ('Service International Photographique') conserved at CegeSoma since 1972. This photo agency, founded in 1933, obtained in 1940, together with two other agencies, a commercial monopoly from the Propaganda Abteilung. Sipho thus quickly became the largest company in Brussels producing news images and supplying the press with photographic material. In 1943, it was taken over by the Atkantik agency (Berlin). In 1946, the director of Sipho and most photographers working for this agency were found guilty of collaboration by the Brussels Military Court. The equipment and archives of Sipho were confiscated. The Sipho fund is made of photos that were originally seized by the Chief Military Prosecutor's Office as pieces of evidence for the post-war collaboration trials.
The photo library also contains about 80.000 photos of individuals related to the two world conflicts (military, political, social and economic aspects of both wars), the post-war years (Cold War, Korean War, Belgian Congo and ex-colonials, Expo 1958 ...). Among others, we find the very beautiful photographs of Janine Binon (Hospital of the Ocean in De Panne and the Queen Elisabeth schools 'Charles Théodore' and 'Marie-Josée' in Wulveringhem during 14-18), the Algoet photo collection…
CegeSoma doesn't hold original vintage prints for 14,000 of these 80,000 photographs. Indeed, if all the photographic documents that have been entrusted to us have been digitized, only a part of them are kept in their original form. Some photos of individuals, once digitized, have been returned to their owners who, understandably, are often very attached to them. This is mainly the case of photos from the First World War and of ex-colonials. In these digital collections, the very beautiful Cauvin and De Bremaecker collections are worth mentioning.
Consultation, reproduction and donation of photographs ?
Most of our collections are available online. However, among the CegeSoma's photographic collections, some digitized photos are not, due to copyright and privacy issues. If you have found a photograph that interests you but is not available online, please send your request to isabelle.sampieri@arch.be.
The return of the photographic collections to the Square de l'Aviation will not change anything in terms of consultation (no access to the original photo prints), but the waiting time for reproductions will be shorter than before. If you wish to obtain a photographic reproduction, we invite you to consult the page 'Reproduction of CegeSoma documents'.
Finally, if you have a photographic collection related to the themes studied by CegeSoma and would like to ensure its lasting preservation and contribute to the memory of our society while stimulating the historical research of the scientists and readers attending our institution, please contact gertjan.desmet@arch.be.