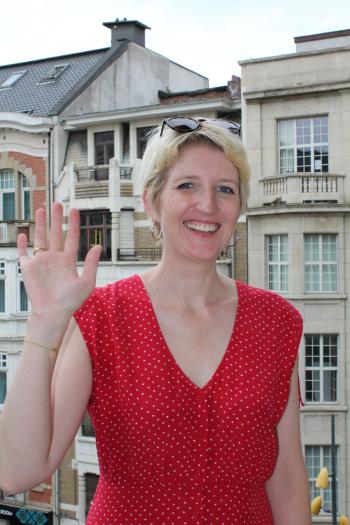 In early July, our colleague Florence Gillet, whom many of you already know, will take a career break, moving abroad with her family for two years.
For those who don't know her or never met her, here is a brief portrait …
Florence got a Master's degree in History and another MA in Information and Communication Sciences and Technology, both from the Free University of Brussels (ULB). She has worked at CegeSoma for over 16 years, starting with a project on the social memory of Belgian "old colonials". Since 2007, she has been responsible for the development of our audiovisual department.
Her fields of research are the digitisation of archives, the impact of information and communication technologies on human sciences, data quality, the memory of colonisation, and iconographic analysis.
She will thus temporarily leave her present roles as person in charge of digital access to our collections and of our digital humanities projects, and also as assistant director of CegeSoma.
Florence, we thank you very much for these wonderful years we spent here with you ! Please know it makes us all so happy that you now have the opportunity to fully live your dreams ! We also look forward to seeing you come back to us, manifesting the same enthusiasm, inspiration and team spirit, these precious qualities that characterize you, among many others !
All the best!