Occupied Belgium
The Second World War front and centre in the journal Belgica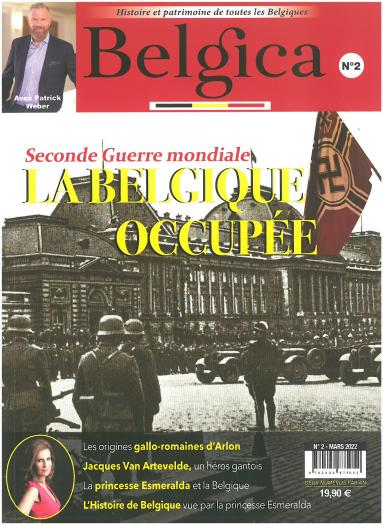 In the autumn of 2021, the very first issue of Belgica, a French-language journal devoted to the "history and heritage of all the Belgiums", was published thanks to the work of Patrick Weber, who is its director. This first issue was, quite logically, devoted to the creation of the Belgian state in 1830.
The theme of the second issue, which has just been published, is 'The Second World War', a special issue written in partnership with the CegeSoma/State Archives. In their introductory article 'Que reste-t-il de la Seconde Guerre mondiale?', Chantal Kesteloot and Nico Wouters look back at the overall evolution of Belgian society under occupation and also ask the question of how our society views this troubled period now. 2020 should have been the occasion to commemorate the 75th anniversary of the end of the Second World War, but this anniversary was pushed into the background by the health crisis even though our society today remains, in part, the heir of this major conflict. What are the major achievements of research into this conflict and what remains to be discovered? Beyond the classic divisions, what legacy has the conflict left us? How can we fight against certain forms of political or ideological mobilisation? In addition to a chronology of the occupation, the issue also offers updated contributions on the Resistance (Fabrice Maerten), collaboration (Alain Colignon and Bruno De Wever), the extermination of Jews and Gypsies (Laurence Schram), the 'false' Soir (Eglantine Lebacq), living and surviving in occupied Belgium (Kevin Gony), the hell of Breendonk (Patrick Nefors) and a contribution on René Magritte's painting 'Le Retour' (Patrick Weber).
For the CegeSoma, this publication is a great opportunity to promote recent research findings to a wide audience: a public history approach the institution is keen to promote. Photographs, mainly from the CegeSoma's collections, accompany the various contributions. The issue also contains additional contributions that propose a journey through other periods of our history.
In short, this is a publication that should appeal anyone interested in the history of Belgium and, more particularly, in the difficult and troubled period of the Second World War.
This publication is on sale in bookshops and at CegeSoma for €19.90 (excluding postage). Interested? Send an email to cegesoma@arch.be