Public history in Belgium: state of affairs, challenges and outlook
Contemporary History Day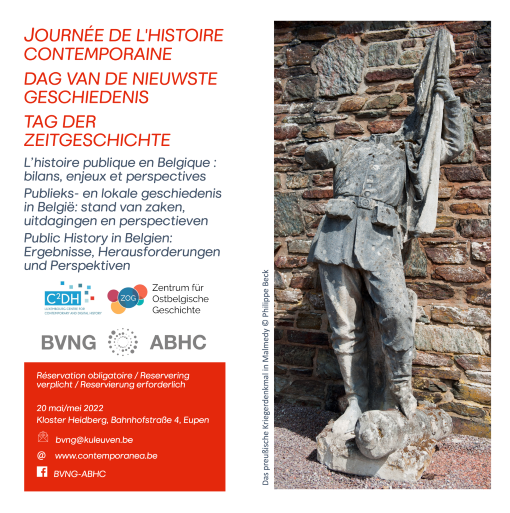 The Association belge d'Histoire contemporaine (of which CegeSoma is a member), in collaboration with Zentrum für Ostbelgische Geschichte (ZOG) and Luxembourg Centre for Contemporary and Digital History (C2DH) is pleased to invite you to the 2022 edition of the Contemporary History Day. After having been cancelled two years ago due to the pandemic, this biennial study day finally takes place on 20 May 2022.
This year's edition shall be dedicated to public history in Belgium. It will be the occasion to have a look at the current state of affairs and to share the outcomes of experiences intended to make history known and tangible beyond university campuses. This will also be an opportunity to address the issue of regional and local history, which is closely linked to public history as it is often penned by non-professional historians and forms a fertile breeding ground for historical counter-narratives of underrepresented social groups. Ostbelgien is a perfect example thereof and shall be highlighted during this study day.
The event shall take place in Eupen, in the historical and enchanting premises of Kloster Heidberg, just a few steps from the railway station of the capital of German-speaking Belgium. After the welcoming addresses by Messrs. Brüll & Fickers (ZOG & C2DH) and by Mr. Oliver Paasch, Minister-President of the German-speaking Community, the opening paper shall be presented by Ms. Aline Sax, professor at the Universities of Antwerp and Ghent, famous author of historical novels, research coordinator at Geheugen Collectief – and former president of the Association belge d'Histoire contemporaine (ABHC).
Subsequently, three sessions shall take place in parallel under the gothic vaults of the monastery, before a reception offered by ZOG and ABHC.
Klick here for the detailed program.
PRACTICAL INFORMATION
Venue: : Kloster Heidberg - Bahnhofstraße 4, 4700 Eupen (a five minute walk from Eupen railway station)
Date: : Friday, 22 May 2022
Registration mandatory until 16 May 2022 via GoogleForm