Oorlog in korte broek, 14-18.
(War in short pants, 14-18)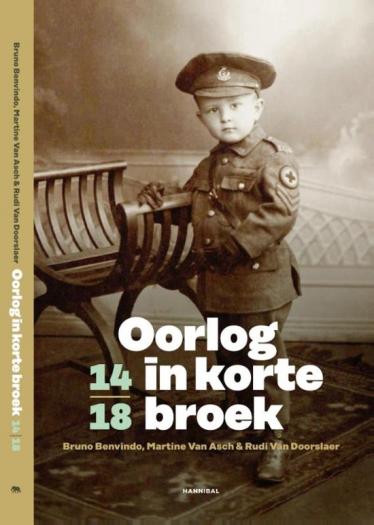 The catalogue accompanying the exhibition "War in Short Pants, 14-18" recounts the fate of children during the Great War. After a presentation of the history of childhood in 1914-1918, the book follows the traces of seven boys and girls who experienced the conflict in Belgium, Germany, Russia, the Ottoman Empire and Australia.
A total War
The First World War consists of more than trenches and mustard gas. For the first time in history, entire societies are included in the war effort. The war dominates everyday life, including that of children. From 1914 onwards, fathers and brothers leave for the front and families flee the occupant. The Great War thoroughly changes the children's lives.
Dreaming of the front
More than ever, children are now both instrument and target for war propaganda. In all sorts of different ways, they are being mobilized to contribute to the war effort. Seemingly innocent channels such as literature, toys and coloring books aim to justify the war. Some older children even dream of taking part in the fighting on the front.
Touching testimonies and rich visual material bring to life the world children grew up in during the war. They show how this war turned their world upside down during four long years.
14-18 through children's eyes