DIGITISATION & QUALITY GUIDE / CegeSoma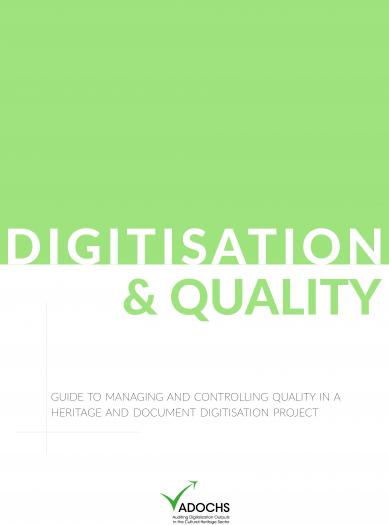 CegeSoma – 4th operational directorate of the State Archives – is pleased to make the Digitisation & Quality Guide elaborated within the framework of the ADOCHS project (2016-2021) in collaboration avec the Royal Library (KBR), Vrije Universiteit Brussel (VUB) and Université libre de Bruxelles (ULB) available for free.
The guide is destined for the experts of workshops specialised in cultural heritage and document digitisation and is also available in Dutch and French. It provides organisational and methodological tools for quality control of digital data produced throughout the whole digitisation process.
Digitisation operators are provided with technical recommendations to enable them to digitise collections properly and homogeneously, while collection and project managers shall find and overview of the processes that allow them to elaborate a digitisation project in detail.
The guide aims at standardising quality criteria and at facilitating the exchange of information betwen cultural heritage institutions and their target audience, and it contains 6 chapters:
Chapter 1: digitisation challenges
States the most common objectives of digitisation and their evolution in light of the path towards an increasingly digital modern society. This evolution brings about institutional changes that are also guided by the changing expectations and needs of users of archive services and libraries.
Chapter 2: The notion of quality
The difinition given in the ISO-9000 norm is briefly resented, then adapted and tailored to the specificities of the digitisation process. The strategic and intellectual elaboration of a projet is addressed via three main documents: the data management strategy, the digitisation policy and the technical specifications.
Chapter 3 and 4: the quality of deliverables
The notions of image quality and metadata quality are explained and characterised in order to flesh out quality criteria.
Chapter 5: digitisation environment and good workshop management
As the digitisation of cultural heritage bears on precious objects, be they ancient or modern, particular measures to avoid damage during handling are presented here.
Chapter 6: methodology sheets
These sheets contain the key concepts of every step of the quality control process and follow the digitisation sequence in chronological order. Each sheet also states practical recommendations, tools and advice, as well as additional sources to support each step of quality control.
Download the Digitisation & Quality Guide / CegeSoma
Acknowledgements
This guide was developed, authored and formatted by Chloé Brault with the support of all members of the ADOCHS project. We would like to thank Nicolas Roland, Florence Gillet, Anne Chardonnens, Tan Lu, Frédéric Lemmers, Ann Dooms, Nico Wouters and Seth van Hooland.
Further acknowledgements are extened to the teams of The Royal Library (KBR) and the State Archives who have brought in their expertise and advice to this guide, in particular Piet Janssens, Marine Bouvy, Peter Catrie, Guillaume Lebbe, Clarisse Fouquin and Toon Renard.