Gurs, history and memory of the Spanish republican exile (1939)
Screening-debate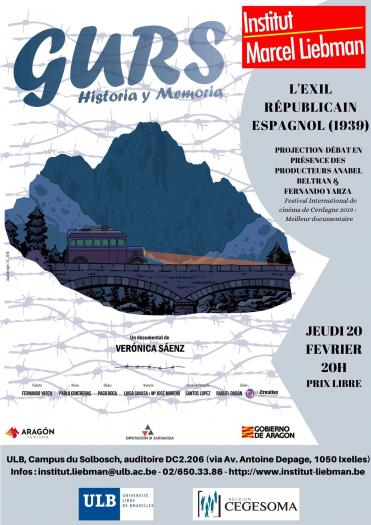 The Marcel Liebman Institute and CegeSoma/State Archives are pleased to invite you to the first screening in Brussels of the documentary "Gurs, historia y memoria" by Verónica Sáenz Giménez (2018, 56 min., Spain), followed by a debate with the two producers Anabel Beltran and Fernando Yarza. The film will be shown in original language with French subtitles.
Synopsis:
A few pupils travel by bus across the border in the Pyrenees in order to get a better understanding of the meaning of the words "refugee" and "exile". Eighty years earlier, others made same journey as they fled the victorious troops of Franco to face the terrifying snow-topped mountains in anxiety and misery. On the other side of the border in France, near the village of Oloron-Sainte-Marie, laid Gurs camp, a hastily set up provisional shelter that remained open until 1945. For these young pupils it is a duty to remember. The film also shows the moving testimonies of 'survivors' or their descendants facing the camera or in animated sequences. One of the survivors tells us that they were joined by 7000 Jews arrested by the Vichy regime before being deported. Another states: "It was not a 'civil war', but a war against Spain because four armies fought the Spanish Republic".
Verónica Sáenz has worked on several films and series for the Spanish television. She presents us a first solemn documentary in which the story of these pupils who travel on a journey of remembrance are brilliantly intertwined with moving testimonies and beautiful animations drawn by one of the greatest Spanish comic-strip artist of this moment, Paco Roca.
Prize of the International Film Festival of Cerdagne 2019: Best documentary