The last 242 executions in Belgium: military justice and executions as part of the repression of collaboration after World War II.
CegeSoma Public History Meeting (2023-8)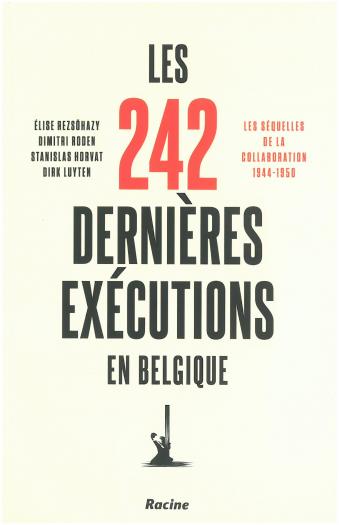 Conference-debate (in French and in Dutch) with guests,
Élise Rezsöhazy, Dimitri Roden, Stanislas Horvat and Dirk Luyten
After World War Two, in Belgium, 242 collaborators and war criminals condemned to death were shot. Not only were these executions the most severe punishment for the crimes of collaboration, they are also engraved in the collective memory because of their considerable social and symbolic impact. However, there are still many myths and misconceptions about these executions. The BELSPO-BRAIN 2.0 Postwarex project, developed in cooperation between CegeSoma and the Royal Military Academy, examined these executions from the point of view of military justice, which played a central role both in the process leading up to them and in the executions themselves. For the first time, Postwarex researchers had access to the entire military justice archive. They were able not only to draw up a detailed profile of the 242 people executed, but also to reconstruct in detail the executions and the decision-making process. The results of this research are now available in Dutch and French in two new publications: De Laatste 242/Les dernières 242 exécutions en Belgique, published by Lannoo and Racine.
During a bilingual Public History conference and debate organized by CegeSoma and the non-profit organization 'Les Amis du CegeSoma/De Vrienden van het CegeSoma' on Wednesday 29 November 2023 (4.30 - 6.00 pm), the four authors will develop the final results of their research, some partial aspects of which they have already highlighted at the closing conference of the Postwarex project in May 2022. This will also be an opportunity to debate with the authors about these executions and their significance for repression and for the long-term history of Belgian justice.
Élise Rezsöhazy is a historian and was a researcher at the State Archives/CegeSoma as part of the Postwarex project underpinning 'De Laatste 242/Les 242 dernières exécutions en Belgique'. She is currently associated with UCLouvain.

Dimitri Roden is a historian and researcher at the Royal Military Academy. He was a researcher in the Postwarex project.

Stanislas Horvat is a legal historian and was promoter of the Postwarex project for the Royal Military Academy, where he is a professor.

Dirk Luyten is a historian and was promoter of the Postwarex project for the State Archives/CegeSoma, where he works as a researcher.
Both books will be available for purchase after the conference.
We look forward to seeing you all there!