Uit de lus van de strop
(Neck out of the noose) Gentenaars in de bres voor de Joodse bevolking 1940-1944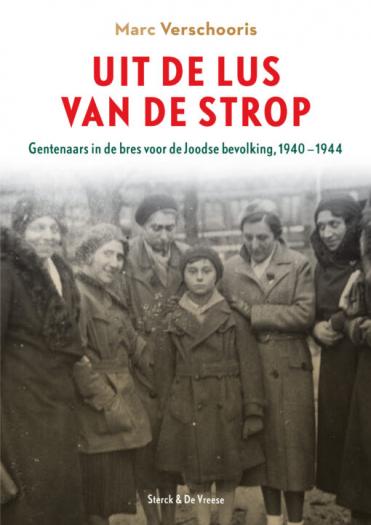 Marc Verschooris is a seasoned researcher (archives) and it's not his first publication either: he already penned the book 'De papegaai is niet dood' (The parrot is not dead) about the activities of three secret agents. 'Uit de lus van de strop' focusses on the people of Ghent who helped their fellow Jewish citizens escape the persecutions of the occupant and its henchmen - persecutions that often led to death.
Early years
The story begins in the 1920-30s when many Jews from Eastern Europe came to Ghent, fleeing discrimination and racial persecution. Many of them started studying engineering. They were bright minds who did not all return to their home country after their studies. Their names resonated in various branches of industry established along the canal in Ghent. Many advanced to senior positions such as company director, while others opened their own businesses or took a position in education.
The occupation
How well the Jewish engineers were integrated in Ghent became especially clear during the Second World War, when misery was at its peak. It was this very integration that sparked the assistance to the Jews, as those who had to go into hiding were colleagues and friends. Among them, many were doctors, professors and engineers. People of Ghent from all walks of life, with different convictions but with a lot of courage, leaned up against barbarity and terror.
Based on the combined figures of families that had fled the city and of children placed in foster care by the Comité de Défense des Juifs of Ghent, an estimated 270 Jews lived in the Ghent area in late 1942. About one third of them were deported, 95 people did not survive. Only five persons – three men and two women – could be repatriated. The others were able to save their necks. The people of Ghent were clearly not willing to abandon their fellow citizens.
Marc Verschooris has identified all Jewish families from the Ghent region. He traces back the stories of the survivors who miraculously escaped the grip of hate. Despite the fear of antisemitism then and now, there is also gratitude for the heroic deeds of those who stood up and resolutely offered help, respect and solidarity. Many previously unpublished photographs put a face on the key actors in this book.
Puzzles
During his many years of research, Marc Verschooris often found merely fragmentary witness accounts, which were sometimes only declarations made to complement other declarations, but little by little, he was able to piece together the puzzles of their lives. Thus, in his research, the unsuspecting mention of a name in a newspaper for example, could lead him to archive sources in which he found the beginning of a life story that ran through hidden trails of history, culminating several years later in the posthumous recognition of Righteous Among the Nations, the Yad Vashem distinction for those who protected their Jewish neighbours.
How people of Ghent came to the aid of their fellow Jewish citizens during the Second World War.