A new online publication on the activities of the Einsatzstab Reichsleiter Rosenberg (ERR) in Belgium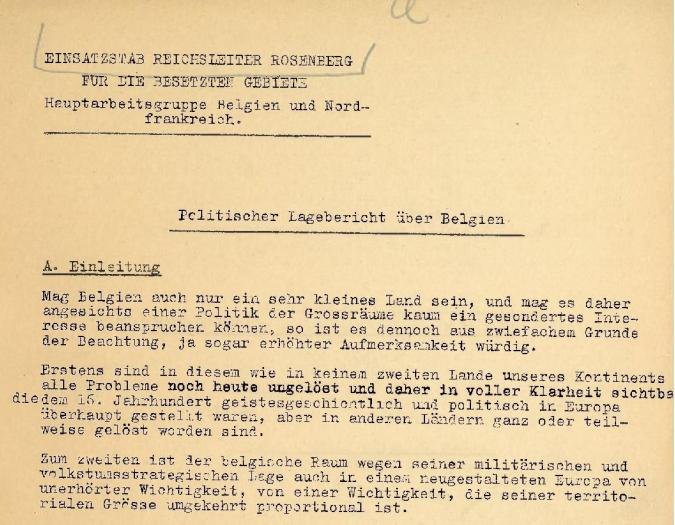 During the occupation, the Nazis carried out cultural looting: libraries and archives of Jews and political opponents (or those whom the Nazis saw as such) were systematically robbed. The Einsatzstab Reichsleiter Rosenberg (ERR) played a key role in this. After the end of the Second World War much of this material disappeared to the USSR. After the fall of the Wall part of it was returned, but the issue of cultural looting still leaves traces, just think of the recent discussions about the provenance of certain works of art in museums and the problem of restitution in the Netherlands.
Libraries
The research is also still going on. Patricia Grimsted is an international expert on the spoliation and restitution of cultural property and knows better than anyone the archives in the ex-Soviet Union, where a lot of information about those operations is being kept. In the 1990s, Michel Vermote from the AMSAB-ISG was involved in the recovery of archives that were taken from Belgium by the Nazis, including those of the socialist workers' movement, and he is still doing research on the subject.
They both wrote an article regarding the theft of libraries by the ERR in Belgium. It is estimated that between 250,000 and 300,000 volumes were stolen from private or institutional libraries in the course of 150 book confiscations. The article was published online on the website 'Cultural Plunder by the Einszatzstab Reichsleiter Rosenberg' created with the support of the Claims Conference. You can consult it on this link. The article is mainly based on material kept in Kiev and Berlin, but the collections of CegeSoma and the State Archives were also used. In addition to the article, a number of digitised archival documents are published, such as the lists of confiscations.
On 14 June 2018, both authors were already guests at CegeSoma for a workshop on the same theme. For a report on the workshop and an interview with Patricia Grimsted about the research, please visit this link.
The article by Patricia Grimsted and Michel Vermote makes it clear that the Second World War must also be seen as a transnational phenomenon and that international archival research is indispensable for certain themes.